The Legacy of Japan-U.S. Grassroots Exchange Programs Across the U.S.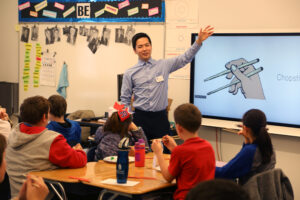 The Japan Outreach Initiative (JOI), which promotes Japanese culture in communities of the U.S. that have little contact with Japan, is celebrating its 20th anniversary this year. The creative and enthusiastic efforts of these Japan-U.S. exchange coordinators are expanding the circle of friendship between the two countries.
As the United States is an important partner for Japan, the Japan Foundation Center for Global Partnership (reorganized into the Global Partnerships Department in April 2022) was created in 1991 to conduct exchange missions through two approaches. One of these approaches is an intellectual exchange to support joint research between Japanese and American experts. The other seeks to promote mutual understanding among both countries' citizens through cultural exchanges. Here we focus on the latter activity.
An "Antenna to Japan" in the hearts of Americans
As Japan's presence in the U.S. grew, so did interest in Japanese language education and culture. The Japan Foundation (JF), as a measure to support such interest, began implementing the Japanese Language Exchange (JALEX) program in 1992, which dispatches Japanese-language teaching assistants to secondary schools in the United States. A more advanced version of this program, the Japan Outreach Initiative (JOI) was launched in 2002. At the time, Japanese companies were expanding into the southern regions of the U.S., but there was little local understanding of Japan and its culture, and so it was imperative to fill this knowledge gap. The program dispatches Japanese coordinators for two years to areas in the Midwest, the South, and now Mountain states, to introduce Japanese culture through lectures and school visits.
Ms. Mari Maruyama, who served for many years as vice president of the Laurasian Institution, the American non-profit organization that operates JOI in collaboration with JF, said that she has witnessed many examples of Japan-U.S. exchanges blossoming thanks to the presence of the JOI coordinators. "Many of the people in our host towns had no idea where Japan was located on a world map," says Ms. Maruyama. "In Japan, news from the U.S. is reported on a daily basis, whereas in the U.S. news from Japan comes only in the event of a critical situation. By getting to know the JOI coordinators, however, people have developed a curiosity about Japan, which has become part of their daily lives. People who before had never paid attention to Japan now have a new feeling of empathy for Japan whenever there is news about it on TV."
JOI dispatched 93 Japanese citizens from its first term in 2002 to its 20th term in 2022. Representing a range of ages and diverse backgrounds, these coordinators arrive in the U.S. after their training period with their own unique ideas and ambitions to convey various aspects of Japan. Over 20 years, their exchange activities have reached a total of 1.13 million people.
Japan Fest held in the face of the pandemic
Mr. SUEMATSU Daiki, who served as a year 18 coordinator in Southern Mississippi for two years starting from August 2019, undeterred by the challenges of the coronavirus, organized a large-scale Japan Fest that was a great success. "Ever since I was a junior high school student," says Mr. Suematsu, "I wanted people overseas to learn more about Japan and come to like the country." Jackson, Mississippi, where he was dispatched, is a city where African Americans make up the majority of the population and Japanese people are rarely seen. People had no image of Japan other than anime, and for most of them, the first Japanese person they talked to was Mr. Suematsu. "It was a shame that people thought that anime was the only side of Japanese culture. I felt I had a lot to tell them about Japan such as Taiko drums, Kabuki, J-Pop, food culture, and the daily experience of going to a convenience store to buy delicious onigiri… and I found the challenge rewarding."
For a long time, Mr. Suematsu had been thinking about the concept of the Japan Fest. Within six months of coming to the U.S., however, the coronavirus pandemic had spread in the region, and he, like almost everyone else, had to stay at home. He was also forced to return to Japan temporarily during his term, which made him anxious at times. Nevertheless, online activities and information exchanges with fellow coordinators motivated Mr. Suematsu to continue preparing for the event. After requesting Japanese companies to sponsor the event, calling on the nearest Japanese consulate and inviting Japanese dance and taiko-drum performers from other states, Mr. Suematsu's Japan Fest grew to a large event that transcended state boundaries and brought many people together.
Mr. Suematsu recalls, "More than 1,000 people came to the Japan Fest, and we felt there was a positive response. On the other hand, the challenge is to keep the activity going. In southern states such as Mississippi, the Japanese community is smaller and less visible than other Asian communities. In order to continue carrying out exchange events and to introduce Japanese culture, I think that it is essential to create more opportunities for Japanese people to learn about other countries and to go abroad."
Japan-U.S. exchange that has been handed down from generation to generation
Eventually, Mr. Suematsu hopes to join the educational sector and encourage more children to aspire to work abroad. Ms. Maruyama also says that grassroots exchanges that plant seeds of understanding in the hearts of children and students are examples of "soft power." "When I asked a foreign assistant language teacher assigned to a Japanese school about what motivated her to move all the way to Japan, she replied, 'When I was a child, a Japanese coordinator came to my elementary school and taught me origami. I still treasure the origami crane she gave me at that time.' So, her encounter with a JOI coordinator during her childhood was her starting point," says Ms. Maruyama.
JF believes that each small seed that takes root in people's hearts will eventually blossom and give birth to more seeds of further language and cultural exchange.
We will continue to sow those seeds.
【Related pages】
Two Programs that Link Japan and the U.S., Aiming to Develop the Next Generation of Leaders
"Heart to Heart"—Connecting the Hearts of the Younger Generation to Expand the Japan-China Friendship Network