"Heart to Heart"—Connecting the Hearts of the Younger Generation to Expand the Japan-China Friendship Network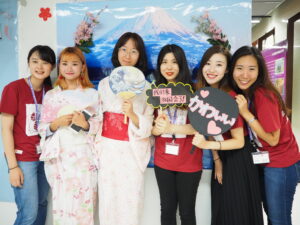 Young people from Japan and China, coming to understand each other and developing friendships by spending time together. The Japan Foundation has been promoting dialogue amongst young people—the future leaders of Japan-China relations— through a variety of exchange programs, including long-term invitation programs and collaborative events.
In 2006, the Japan Foundation (JF) launched the "Japan-China 21st Century Friendship Program" with the aim of promoting deeper exchange among the next generation of Japanese and Chinese youth, and established the Japan Foundation China Center to be the department in charge (reorganized into the Global Partnerships Department in April 2022). The previous year, 2005, was a year of rapidly cooling Japan-China relations in which large-scale anti-Japanese demonstrations were seen throughout China. At the same time, however, many young Chinese people were fascinated by Japanese pop culture, including manga, anime, TV dramas and fashion. There was a discrepancy between the harsh Japan-China relations seen in everyday news coverage and the passionate interest directed by Chinese youth toward content coming out of Japan. There were also few opportunities for young people in Japan to learn directly about the reality of Chinese society achieving dramatic economic growth. These circumstances called attention to the need for Japanese and Chinese youth to be able to engage in direct dialogue and learn from each other, as the first step toward developing future-oriented Japan-China relations.
Hoping for a New World and Seizing the Opportunity to Study in Japan
The "Japan-China 21st Century Friendship Program" engages in various efforts under the theme, "Xin lian xin," which means "Heart to Heart." Their main program, the "Long-Term Exchange Program for Chinese High School Students," is an invitation program aimed at Chinese high school students studying Japanese, giving them the chance to stay in Japan for one year and attend a Japanese high school, while living with a host family or in a dormitory. One of the students who participated in this program was Ms. Liu Siyu, who came to Japan as part of the program's fourth cohort in 2009.
Ms. Liu began learning Japanese in 2005, when she was in her first year of junior high school. This was a time when many Japanese companies were expanding into China—even the TVs in her parents' home were made in Japan—leading to strong interest in the country. Ms. Liu says that she applied to the program as a high school student because she "had a yearning for a new world." She says, "My generation was even hungrier for knowledge of the outside world than people are now, but only a few of us were able to study abroad. It was a privilege reserved for a few really affluent families. That's why I didn't hesitate at all to apply to this program—this opportunity that would let me study abroad on public funds if I were chosen."
Ms. Liu passed the exam with flying colors and came to Japan with 35 of her peers. The students from the program are dispersed throughout Japan, from Hokkaido Prefecture to Okinawa Prefecture; she was sent to Takaoka City in Toyama Prefecture. "I really wanted to go to Tokyo, and not knowing where Toyama was, I was anxious and confused at first. But in hindsight, I feel very grateful that I was able to come here. It's unusual to be able to say you've lived in Toyama, so it serves as a conversation starter even now."
The World beyond the "Obstacle" of the Toyama Dialect
Ms. Liu was the only foreigner at the high school she attended in Toyama Prefecture. "Since none of my classmates could speak Chinese or English, it took me a long time to get to know them, and there were times when I struggled. I was able to overcome that obstacle, though, when I made an effort to speak to people in Japanese, and even more so when I was able to speak the Toyama dialect fluently. I would listen carefully to the dialect as it was being used, memorize phrases, and then try using them the next day. I'd get such a positive response, and it was more practical and interesting than when I was just studying Japanese in China. That was when I really started having fun—making friends, joining the tea ceremony club, and getting to know junior and senior students."
For Japanese high school students, the sight of foreign students from other countries is an inspiration, and for Chinese high school students, who have been devoted to academia since childhood, Japanese high school students who instead devote themselves to extracurricular activities and school events, and also spend time just hanging out, are a breath of fresh air. The simple interest and empathy felt for their peers stood before them goes beyond any image that they may have seen in the media and online. Ms. Liu says, "I was a high school student at the time, and because I had not yet fully developed my worldview, I was able to accept the new culture, including the Toyama dialect, with open arms. If I had grown up without that, I might have judged other countries based solely on my own worldview. I think that every culture has parts that are acceptable and parts that are unacceptable, so I think it'd be good for both sides if we could just coexist without prejudice."
After spending a year in Japan, the high school students return to China and choose their own paths for the future. Some of them enter a Japanese university, while others study at a Chinese university, or study abroad in other countries in Asia, Europe or the U.S. Ms. Liu went on to attend the Shanghai University of Finance and Economics, where she studied business and Japanese, while also joining "F-Katsu," a team that aims to revitalize the Centers for "Face-to-Face Exchanges" established by JF at universities and other venues around China to offer opportunities for interaction. In this program, university students from Japan and China collaborate to plan and run cultural festivals. Ms. Liu participated through cosplay and by setting up a makeup booth for the festival. After graduation, she came to Japan again, this time to work for a major Japanese advertising agency in Tokyo. She works with both Japanese and foreign companies and has been involved in global strategies, drawing on her experience as a student.
The "Long-Term Exchange Program for Chinese High School Students" has been on hiatus since 2019 due to the COVID-19 pandemic. JF, however, has held an online exchange program called the "Japan-China High School Student Dialogue and Collaboration Program" since 2020. Through this endeavor, young people from Japan and China are able to communicate with each other and get to know and understand each other. We hope that these small efforts will serve as a foundation for expanding the circle of friendship between Japan and China, building a relationship of trust between the two countries.