As Japanese-Language Learners are Growing in Asia, Responding to the Diversifying Learning Motives There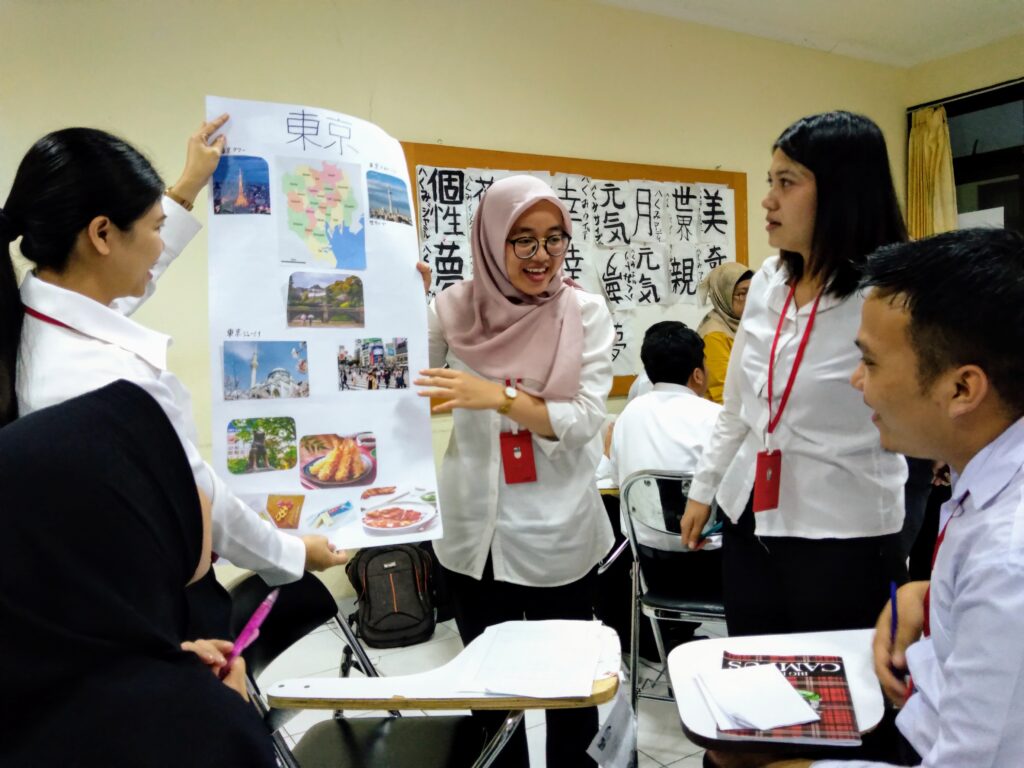 People from Asia make up the majority of overseas learners of Japanese. Their motivations for learning also change depending on the various educational policies of each country and its relationship with Japan. The Japan Foundation is developing programs to meet the new era and changing society, as well as the diversifying demands for Japanese language study.
Approximately 80% of the world's Japanese language learners live in Asia. The reason for the language of Japan, which is an Asian country itself, being studied in these other Asian countries is due to the expansion of exchanges with Japan after its rapid economic growth and the introduction of Japanese language courses into educational programs as part of each country's own educational policies. In addition, especially among young people, interest in pop culture as represented by Japanese manga and anime is a common motivation for learning Japanese around the world, and in recent years there has been a new reason for people especially in Southeast and South Asia to learn Japanese—to come and work in the country. The Japan Foundation (JF) is developing Japanese language education programs based on the situations in each country and the differing motivations for learning Japanese.
Promotion of Japanese Language Learning in Secondary Education in Southeast Asia
In recent years, the Southeast Asia region accounts for a large percentage of the world's Japanese language education in terms of the number of institutions, teachers, and learners. Approximately 30% of the world's Japanese language learners are concentrated in five Southeast Asian countries (Indonesia, Malaysia, the Philippines, Thailand, and Vietnam). In these countries, the number of Japanese learners is bolstered by the existence of Japanese language classes offered at the secondary education level (junior high and high school).
Since the 1980s, as globalization has progressed around the world, foreign language education in secondary schools has also become more popular in these countries. In the midst of a trend toward promoting the study of Western languages, it was Malaysia that first took a Japan-oriented stance. In 1981, Malaysia launched its "Look East Policy," with the aim of achieving economic growth with Japan as its model. In Malaysia, Japanese language courses were first offered at the Faculty of Humanities and Social Sciences of the Universiti Malaya in 1966, and Japanese language education also began being offered in the Preparatory Education Course at the Universiti Malaya and the Pre-Arrival Intensive Course at Universiti Teknologi Malaysia in 1982, preparing students to travel to Japan as part of the Look East Policy. JF has started to dispatch Japanese language education specialists to the country to support this initiative. Also, since 1984, Japanese language education has been offered as an elective international language course at residential schools for outstanding Bumiputera (Malay and other indigenous Malaysian) students. Japanese language classes have also been offered as an elective at day schools since 2005.
Likewise in Indonesia, the number of students studying Japanese in high schools has increased significantly since the curriculum revision in 2006. This was due to the fact that JF had already produced a textbook in cooperation with the Indonesian Ministry of Education and Culture, which, having received approval by the Ministry, made it easier to introduce Japanese as a second foreign language. Under the new curriculum announced in 2013, English became compulsory in high school, and Japanese is one of the six languages included in elective courses. According to the 2021 Survey Report on Japanese-Language Education Abroad, more than 642,000 people in Indonesia were studying Japanese at secondary school level, making Indonesia the world's leader in the number of Japanese language learners at this level.
In Thailand, approximately 200 graduates of the "Thai Secondary Education Civil Service Japanese Language Teacher Training Program," which was implemented by the Ministry of Education in cooperation with JF for four years from 2013, have been assigned to public secondary schools, and Japanese language classes have been established or expanded at each of these schools. In addition, Akiko and Friends, produced by the JF Bangkok for secondary education courses, is widely used in classes for Japanese majors.
In Vietnam, Japanese language education has even been introduced into primary education. In 2003, the "Japanese Language Education in Secondary Schools Pilot Project" was launched, with Japanese language education being established as the first foreign language subject in junior high schools and high schools. In 2016, five schools in Hanoi and Ho Chi Minh City began Japanese language education on a trial basis as the first foreign language at primary education level (grades 3 to 5). As of October 2022, Japanese language had been introduced into three elementary schools in Hanoi, and a team consisting of Japanese language education specialists from academic organizations and universities in Vietnam and Japanese language education specialists from the JF Hanoi is continuing to develop curricula, textbooks, and other material.
Other countries that have not been particularly active in the past, such as Myanmar, Laos, and Timor-Leste, are also increasing their number of Japanese-language learners as well as opportunities for Japanese-language education. Japanese language education specialists of JF continue to work with local Japanese language teachers on the development of curricula and textbooks as well as to provide teacher training in these countries.
Learning Japanese Language and Culture in Preparation for Working in Japan
As the economies of Southeast Asian countries have continued to develop and more and more Japanese companies have expanded into the region, a need has arisen for Japanese language study for employment purposes. In Vietnam, for example, some Japanese companies are actively hiring Vietnamese people for positions such as engineers. For this reason, Vietnamese people are learning Japanese not only via the foreign-language education offered at elementary school, starting from the third grade, but also at private language schools.
Japan has accepted Indonesian and Filipino nursing and certified care worker candidates under the Economic Partnership Agreements (EPA) that came into effect with Indonesia and the Philippines in 2008. Candidates who wish to come to Japan take practical Japanese language training in these specialized occupations for six months before and after their arrival in Japan, for a total of 12 months. JF is responsible for the training that takes place in home countries, prior to arrival in Japan.
The purpose of pre-arrival training is to "acquire the Japanese language and socio-cultural skills necessary for life in Japan and for in-country training." In addition to fundamental Japanese language knowledge and capabilities, the curriculum provides basic knowledge about Japan and Japanese people (geography, transportation, and other topics), an understanding of lifestyles and manners, and an understanding of the differences in culture and customs in Japanese workplaces, nursing and care-work situations. In the training program after arrival in Japan, students deepen their study of "Japanese required for work" and "Japanese levels sufficient for the National Examination for Nurses and Care Workers" based on what they have learned so far, as they prepare for employment.
Dewi Septyasrini, who completed training at the JF Jakarta before coming to Japan and then studied at a training center in Yokohama, passing the national nursing exam with flying colors, reflected on this time. "The terminology used in nursing was very difficult. It was also difficult to master the Japanese needed to converse with patients. But I was interested in the way Japanese nurses work and their skills, so I worked hard," she said. Ety Noorhayati, who became a caregiver after training at JF, also commented, "During the training in Jakarta, I learned Japanese from 'Aiueo' without using Indonesian. The teacher was kind, so I tried to do my best."
The post-arrival training program provides a curriculum that teaches participants about Japanese lifestyle and culture, as well as the differences in work environments and customs. In addition to classroom lectures at the training center, students also have opportunities to directly experience Japanese culture outside of the classroom and to experience a homestay. "The post-arrival training was not only preparation for the national exam," said Ety, "I also learned a lot that is now useful in my actual work at the hospital."
The relationship with their host families also has shown to be an invaluable memory. "My host family taught me many things such as how to ride the train," Ety said. Dewi also commented, "They were very attentive to foods I didn't like or couldn't eat due to my religion, and I also learned a lot about Japanese culture. I was very impressed with the Hinamatsuri (Doll Festival)."
The road to passing the national exam was not an easy one, but coming to Japan also solidified their decisions to become a nurse and a caregiver. "Passing the national exam is difficult, but you can do it if you study in a planned manner," Dewi said. Ety also encouraged other trainees, saying, "Coming to Japan was a great challenge. But be sure to enjoy your studies."
With the addition of the "Specified Skilled Worker (i)" resident status starting from April 1, 2019, it was expected that there would be an increase in the number of foreigners who need to study Japanese with a view to gaining employment. In order to obtain this status of residence, foreigners who come to Japan mainly for work are required the Japanese language proficiency for communication in daily life situations they may encounter in Japan. JF administers the "Japan Foundation Test for Basic Japanese (JFT-Basic)" primarily in Asian countries to measure these skills. In addition, "IRODORI: Japanese for Life in Japan," a Japanese language teaching resource with learning objectives based on the "JF Seikatsu Nihongo Can-do (JF Can-do for Life in Japan)," which describes the basic Japanese communication skills required for non-native speakers of Japanese in everyday situations in Japan, is available free of charge on the website. JF will continue to enhance its programs so that people all over the world can not only learn the Japanese language but also learn about Japanese culture, responding to the diversifying needs of Japanese language learners in these changing times.
【Related pages】
"NIHONGO Partners," Bringing Living Language and Culture to Middle and High-School Students Studying Japanese in Asia