International Film Festival: A Great Opportunity to Experience Other Cultures, Everyday Lives and the World's Diversity
Japanese film festivals abroad and foreign film festivals in Japan both serve to generate a high degree of interest in Japan and strengthen bonds among film fans and filmmakers, while also enabling one to discover and understand how diverse cultures and values can be.
Films that depict the everyday culture and life of certain countries or regions offer a window into the unknown for viewers, and often reflect the world as perceived by the filmmaker. Indeed, film is a great medium for cultural exchange.
Since its establishment, the Japan Foundation (JF) has year after year collected Japanese films and provided subtitles in various languages, which have been screened in cooperation with overseas diplomatic missions, cultural institutions, and film festivals around the world as part of the Japan Foundation Film Library. One of the largest Japanese cinematic endeavors that JF has conducted overseas in recent years was "100 Years of Japanese Cinema," an official project as part of the Japan Festival "Japonismes 2018," which was held in Paris and other cities in France. Using films selected by both Japanese and French experts, this special program traced the history of Japanese cinema, which dates back to the 1920s. JF co-organized this project with Cinémathèque française and others. A total of 119 films were screened, ranging from silent films to the latest releases, and many actors, filmmakers and film critics from Japan took the stage for guest discussions. Parts of the program were subsequently screened in other French cities, attracting large audiences in every location.
Promising Expansion of Japanese Film Festival Network
In the hope of promoting the appeal of Japanese films to a wider range of people around the world, JF launched the Japanese Film Festival (JFF) to introduce the latest popular Japanese films with subtitles in various languages. Starting with Southeast Asia and Australia in 2016, the program has since expanded into China, India, and Russia, with audiences totaling more than 650,000 people to date, indicating a huge response.
When organizing JFF, JF places great emphasis on cooperation with specialized film institutions in each country. For example, the Singapore Film Society (SFS), which has hosted Japanese film festivals in Singapore for many years, is a local cooperating organization. The Chairman of SFS, Mr. Kenneth Tan, stated, "The Japanese Film Festival has always been a very special festival in Singapore. First started in 1983, it is one of Singapore's oldest and most established film festivals. JF, the Embassy of Japan, and we at SFS, have a unique relationship that we greatly treasure. It helps that the festival has been built and improved over many years. It is a true mutual partnership, as one partner does not simply instruct the other what to do. The two partners work together as equals, and we have a lot of fun in the process. JFF is one of our favorite film festivals in Singapore to work on, not just to watch, which stems from this one of a kind, true partnership."
Mr. Tan affirms that this deep and trusting relationship has further enriched JFF programs. "People want to watch movies about a country they know, but they also want to know better. There are many similarities that the people of Singapore feel between the Japanese and Singaporean cultures. The films may be foreign, but at the same time, it feels quite familiar to you, making it easier to relate to. One of my habits is to be the last to leave the cinema, because if you linger, you hear the real comments, the true feelings people have when walking out. In 2021, we opened the festival with 'Bento Harassment.' Of course, everyone enjoyed the humor, they thought the bentos were very creative and cute, but the most interesting comment for me was, 'Oh, I didn't know Japanese parents pack lunches for their children to take to school. I thought that was only in America.' I feel that they connected to the movie on another level, because Singaporeans love food. Not just eating, but also the way food looks, so the movie was well received."
JFF also focuses on distributing information online. In 2020, which was greatly influenced by the COVID-19 pandemic, JFF launched a streaming service for Japanese films called "JFF Online." In 2022, 20 films were distributed online to 25 countries, attracting approximately 320,000 viewers. Some audience comments included, "In the future, I would like the Japanese Film Festival to be a hybrid of online and offline" (a viewer from India) and "Thank you for sharing interesting, unique, meaningful and above all fun Japanese films with us" (a viewer from Ecuador). We aim to bolster the number of overseas fans of Japanese films by deepening the fusion of real and online activities.
Connecting Ties with the World: Foreign Film Festivals in Japan
Meanwhile, JF has also been working on foreign film festivals in Japan as part of its efforts to promote cross-cultural understanding. In particular, we have been emphasizing the introduction of Asian films that have had few opportunities to be screened. "A Panorama of South Asian Films" (abbreviated as 'South Asian Film Festival') was organized in 1982 to commemorate the 10th anniversary of JF's establishment. The festival invited 11 films from five countries: India, Indonesia, the Philippines, Sri Lanka, and Thailand, which toured Japan, starting from Tokyo.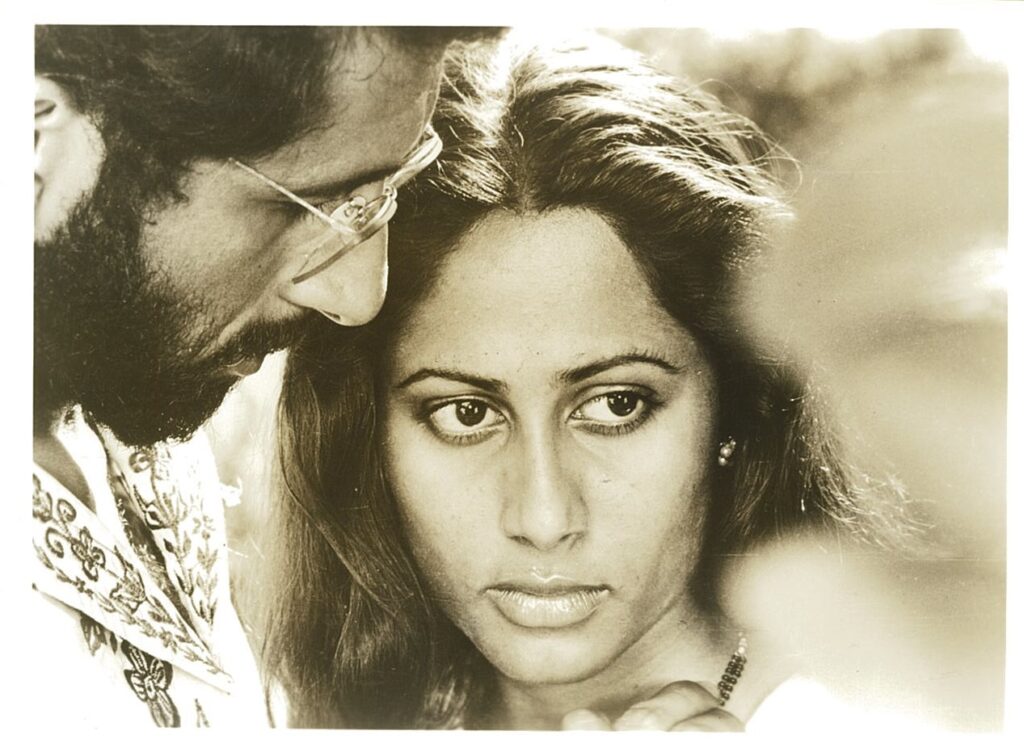 The Indian film "BHUMIKA" was screened at the South Asian Film Festival. It is a 1977 film directed by Shyam Benegal, who is well known for his masterful portrayal of women.
Film critic, SATO Tadao, served as vice chairman of the South Asian Film Festival Planning Committee. In 1980, Sato, who had long been convinced that watching films could promote respectful understanding of other countries, contributed the following article to JF's "Kokusai Koryu" (International Exchange) magazine. "The beauty of Thai cinema, the intensity of Filipino cinema, and the grit of Indonesian cinema. Through films, we can respect each other…If international cultural exchange is really about exchange, and not one-way marketing, then we should not only hold Japanese film festivals in Southeast Asia, but also make the best films from around Asia available to the general public in Japan."
The South Asian Film Festival attracted some 50,000 viewers to its various screenings around the country. The Tokyo venue had a line that wrapped around the building of people waiting to enter, and even today, many film fans, film scholars, cultural anthropologists, and Asian studies scholars, all agree that the film festival sparked interest in Asian culture. From that moment on, JF continued to hold film festivals every two or three years, based on different target regions, with the "African Film Festival" in 1984 and "Latin-American Film Festival" in 1988. In the 1990s, a series of Asian film festivals were organized themed on a single country. This series of film festivals proved a pioneer in many ways. It triggered the active introduction of Asian films at international film festivals around Japan and expanded recognition opportunities for previously unknown films and directors.
The film exchanges that JF has been promoting for many years are also ongoing and thriving in a cooperative program with the Tokyo International Film Festival (TIFF). "CROSSCUT ASIA," a section jointly established by JF and TIFF, is dedicated to Asian films. From 2014 to 2019, it introduced Asian films focusing on a variety of perspectives, including by country, director and theme. JF and TIFF also strove to build networks with Japan through two international co-productions of the Asian omnibus film series "Asian Three-Fold Mirror" in 2016 and 2018, and by inviting film professionals from the Asian region.
Furthermore, in 2020, JF and TIFF launched a conversation series called "Asia Lounge" to promote communication among filmmakers from around the world at the initiative of film director, KOREEDA Hirokazu. That same year in-depth discussions on the power of films were held in a panel with Taiwanese film director and screenwriter Huang Xi and Koreeda as well as a separate discussion with Korean film director Kim Bora and Japanese actress HASHIMOTO Ai. French actress, Isabelle Huppert, and Japanese film director, HAMAGUCHI Ryusuke, and others followed suit the next year in 2021. Although only a limited number of foreign filmmakers were able to actually visit Japan during both years due to the COVID-19 pandemic, their discussions were streamed online, free of charge. A lively Q&A session was held between film fans from around the world and the speakers.
Film is an art form that allows the human imagination to flourish. It affords a great opportunity to span eras, countries, and sometimes even planets, to deepen our understanding of the unknown and realize the importance of diversity. Film critic Sato offered the following in his preface to the South Asian Film Festival pamphlet: "The films of South Asia now speak powerfully about the feelings of their peoples in their own way. They touch our hearts directly and make us keenly aware of the presence of our peers living in the same era." Cinematic exchanges between Japan and other countries, both real and online, will continue to foster deep bonds between people living in the same era.
【Related page】
Souls in Resonance, The Legacy of "Japonismes 2018"