Bringing Together Hearts Around the World Through "A Wild Haruki Chase"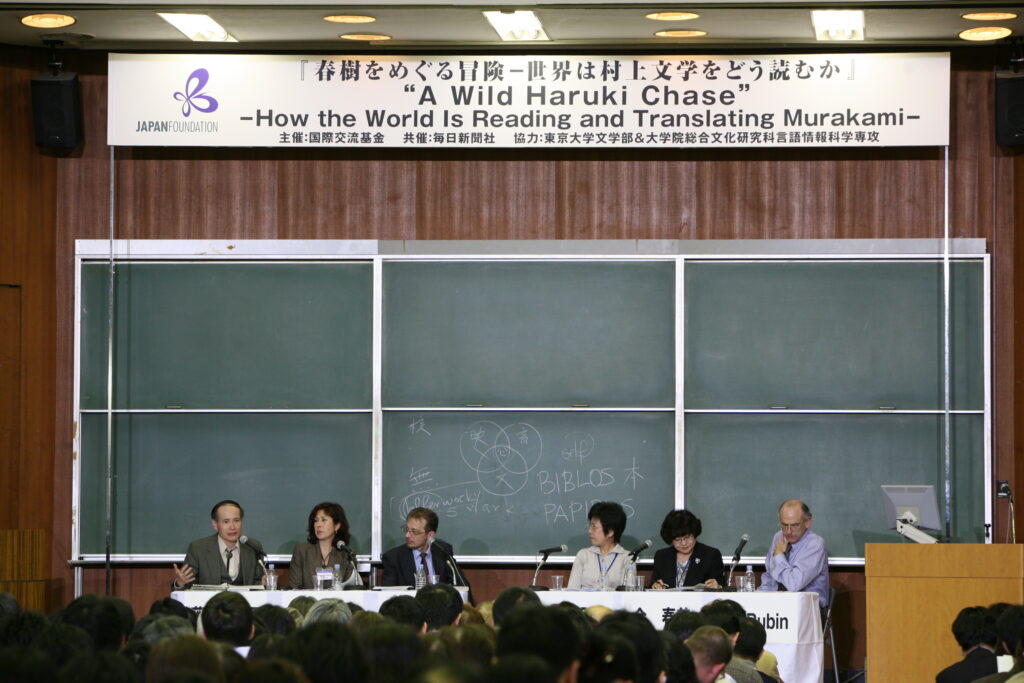 The internationally acclaimed works of MURAKAMI Haruki have gone beyond the framework of a novel to become the subject of movies, plays, symposiums on literary studies, and musical performances, thereby creating various forms of international exchange.
MURAKAMI Haruki is an author with a particularly large presence and influence among contemporary Japanese authors. Since his impressive debut in 1979 with "Hear the Wind Sing," his imaginative works that mix reality and fantasy, with his casual and flowing style backed by a profound knowledge of literature and music, have captured the hearts of many readers around the world to this day.
Murakami's works began to be translated into other languages in the 1980s, and they are now available in over 50 languages. While there are many works of Japanese literature that have been translated into other languages, Murakami's skillful depiction of the anxieties and distress that modern people face transcends any "Japanese" context and resonates with readers around the world as truly contemporary literature with universal appeal.
How Do Translators Read Murakami's Works?
Wouldn't it be wonderful to hold a symposium on the theme of "Murakami Haruki," an author read across cultures, by gathering together translators from various countries who are introducing his works to overseas readers? Based on such an idea, the Japan Foundation (JF) organized the "International Symposium & Workshop: 'A Wild Haruki Chase'—How the World Is Reading and Translating Murakami" (Tokyo venue: March 25-26, 2006; Sapporo and Kobe venue: March 29, 2006). SHIBATA Motoyuki joined the project as an advisor along with FUJII Shozo, a scholar of Chinese literature, NUMANO Mitsuyoshi, a scholar of Slavic literature, and YOMOTA Inuhiko, a critic. A scholar of American literature and a translator himself, Shibata recalls his time involved in the project. "When I was invited to participate in the symposium, I wondered if there would be that many people who would want to hear us talk about translation. However, I participated in the project because I knew that many people were interested in Murakami, and I wanted to create an opportunity to bring translators, who generally don't get much attention, into the limelight."
Shibata's fears were unfounded, as when the symposium was announced, so many people wanted to attend that a lottery had to be drawn. The lecture hall on the Komaba Campus of the University of Tokyo, the venue for the first day of the event, was overflowing with an audience of over 500 people.
The symposium, which featured 23 translators, authors, and scholars from 17 countries, stretched over around five hours of heated discussion. The event began with a keynote speech by American novelist Richard Powers. It was followed by sessions titled "Panel Discussion by the Translators from Around the World," and "Book-Jacket Design Around the World / Comparison of Japan's Images." There was also a lecture by Yomota titled "Haruki in Moving Images." 
On the second day, workshops titled "The Joy of Murakami's Works: From the Perspective of Translation" and "The Murakami Boom and Globalization" were held at two separate lecture halls at the University of Tokyo. In "The Murakami Boom and Globalization," translators discussed the social background that had led to the increased popularity of Murakami's works in each country and region. In the "From the Perspective of Translation" session, 10 translators brought in their pre-translated versions of Murakami's short stories "Spanner" and "Yoru no Kumozaru." They compared their translations, discussing their attitudes and approaches when actually translating. "I realized how much I could learn from talking to Russian or Chinese translators, even though I don't understand those languages", says Ika Kaminka, a Norwegian translator who took part in the workshops. "For example, we were able to learn from each other various ways to solve specific translation problems, such as how to translate the various use of hiragana and katakana in the original text of 'Yoru no Kumozaru.' Sharing my translation experience with others gave me a lot of confidence in my intuition as a translator."
The symposium also led to the creation of a network of translators. "Until then, I had never thought of interacting with translators into other languages," recalls Polish translator Anna Zielinska-Elliott. "I still often exchange e-mails and have online meetings with translators I met at the symposium. Having someone to consult with when translating marks a big change. I have even invited Mette Holm from Denmark and Ika Kaminka from Norway to give presentations on translating Murakami's works in the United States, both at conferences and at Harvard University. I've also been to conferences and written papers with several other translators. It is all thanks to that symposium."
The symposium was described as a "festival for translators" by its advisor Numano. "At that time, international symposiums generally involved the use of an interpreter, or everyone would have to try their best to speak English. But at this symposium, translators from around the world talked in Japanese. I think the fact that each translator shared his or her own experiences in Japanese, without the aid of an interpreter, made a much stronger impression on the Japanese audience than anything else. Each of the translators' speeches was a main event in itself."
The World of Murakami Haruki Enjoyed by the Eyes and Ears
JF also presents ways to appreciate Murakami's works that go beyond the form of novels, and carries out plans that allow people from different countries to enjoy the world of Murakami's works. In the fall of 2015, it held a series of events in Singapore and South Korea with the concept of "'Watching' & 'Listening' to Murakami Haruki."
For "Listening to Murakami Haruki", JF planned a concert expressing the world of Murakami's works in music. Under the supervision of music critic KONUMA Junichi, Japanese, Singaporean, and Korean artists collaborated to create music interweaving the jazz, classical, and pop that appear in Murakami's works together with readings of Murakami's writings. This project transcended the boundaries of genres and was created in collaboration with people from Japan and overseas with Murakami's works at the core. It received a great response and led to its triumphant return to Tokyo the following year.
On the other hand, the event for "Watching Murakami Haruki" was a play, "Kafka on the Shore," a script written by Frank Galati and directed by NINAGAWA Yukio. This play, a beautiful, grand-scale rendition of the world of Murakami's novel "Kafka on the Shore," was later presented as the finale for "'Japonismes 2018: les âmes en résonance' ('Souls in Resonance')," a festival of Japanese arts and culture held in France. It attracted much attention with a unique presentation of countless acrylic cases on carts moving all over the stage, scenes where cats talk, and having drizzling rain fall at the end of the show. The performances were all sold out and there was a line of people waiting for cancellations every day. "It was like a journey to Japan, as well as an invitation to journey inside the heart. I wanted to watch it for longer," was one of the voices of appreciation from the audience. In conjunction with the Paris performance, an important conversation between Murakami and French teenage readers was held at the Théâtre national de la Colline.
In 2012, Murakami received the Japan Foundation Award, which is given to individuals or organizations that have contributed to the promotion of international mutual understanding and friendship through cultural activities. In his acceptance speech he said, "In this real world of ours, there exist geographical borders. I don't know whether or not I should add 'unfortunately' to this statement, but in any case, these borders between nations do exist. At times, they give rise to friction and to political problems. In the world of culture, too, there exist borders. But unlike geographical borders, these borders between cultures can be crossed quite easily by us if only we make up our minds to cross them. Though language and lifestyle may differ from one culture to the next, it is possible for us to share each other's stories across cultures on an absolutely equal footing."
As if to embody these words, Murakami's stories have become a common language for people from different cultural and linguistic spheres to use to interact and communicate with each other. In October 2023, the Waseda International House of Literature (also known as the Haruki Murakami Library) and JF will co-organize a symposium on the expanding readership of Japanese literature in the world, including his own works. A new "Wild Haruki Chase" will begin, attracting people from all over the world.
【Related pages】
Souls in Resonance, The Legacy of "Japonismes 2018"
"Shunkan," "Antigone," "The Cherry Orchard," Expanding the Circle of Excitement beyond Language Barriers
American Scholar Revealed the Profound World of The Tale of Genji